The baby boy of Destiny Drive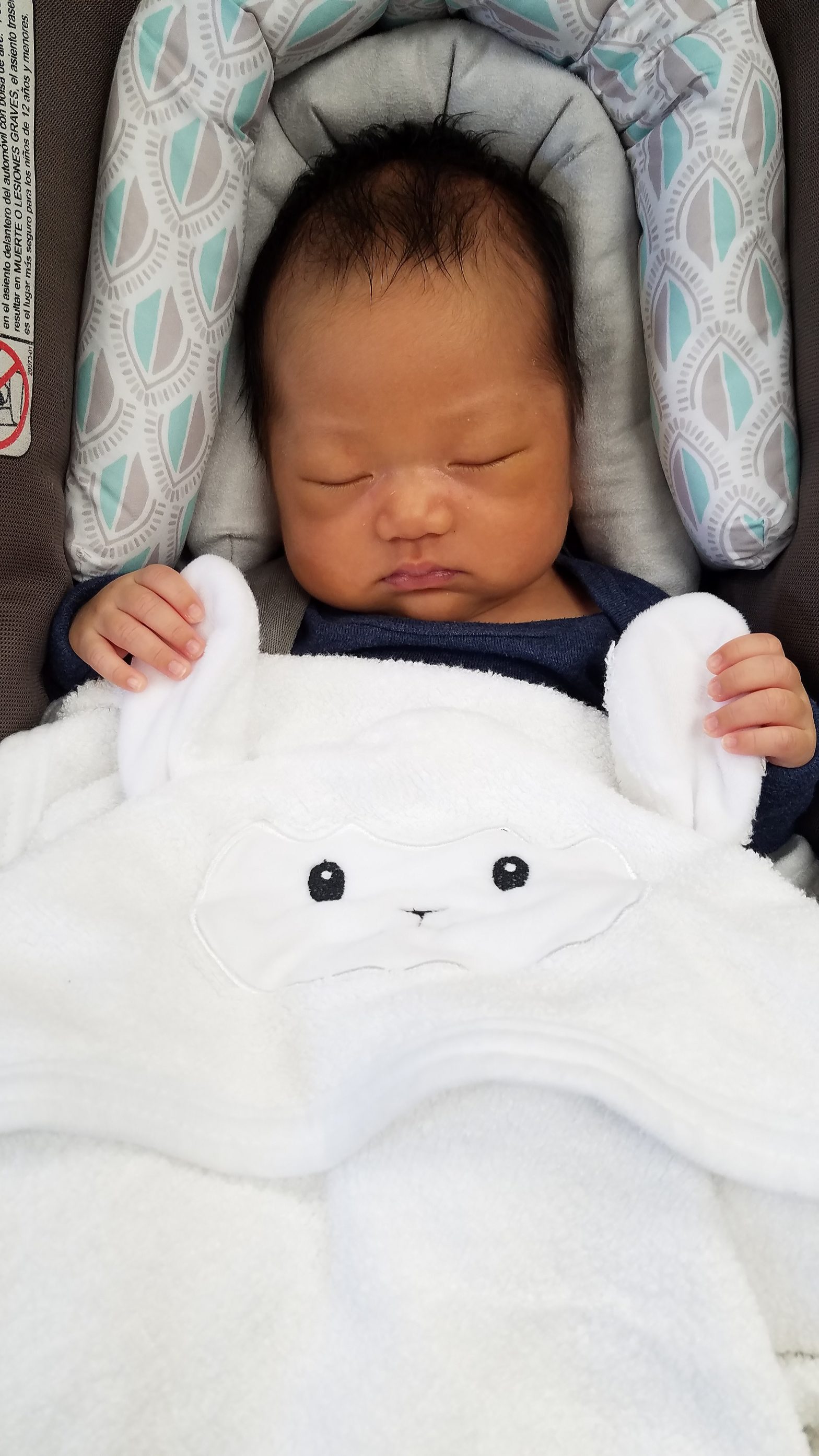 It was crazy. It was wild. It was wholly unforeseen, and it was the kind of thing that only God could do. And He did it. If you want to hear the story from our son's own lips, you can listen to it here .
I remember the day I took Stephen and Dena to her first OB appointment. It was surreal, for I found myself transported to other times, other places, other doctors' office. I sat, transfixed, as the room filled with the oh-so-familiar sound. "Whoosh, whoosh, whoosh." The bold, strong rhythm of life, heart beating in time with its Conductor. "Whoosh, whoosh, whoosh."
It sounded for all the world like four infant sons whose hearts had once beat just like that within my womb. And I thought to myself that day, "Every heart beats the same, no matter its country of origin."FacebookTwitterGoogle+DiggPinterestBlogger
Waking up in America. Day one.
Three months ago, two strangers walked through the doors of the international terminal at Chicago's O'Hare, and they walked right into our hearts. In three months' time, they became, first, friends, and then family.
In three months' time, we watched as their faith was stretched nearly to breaking with a child's illness, business setbacks, and separation by 7000 miles.
In three months' time, we saw a faith that did NOT break, but, rather, grew. We watched God answer their prayers, meeting their needs one by one by one. What a God.FacebookTwitterGoogle+DiggPinterestBlogger
Introducing a family favorite, hot pretzels. When I asked Dena just before they left what her favorite foods were, she named this pretzel first. She's got great taste!
In the course of three months, they experienced American culture with its different foods (think Mexican, Jo-Jo's pretzels, Chick-fil-A, Buffalo Wild Wings, and all of our family favorites, to name a few). They experienced the American church. They experienced an American party (and their very first baby shower), and they got to shoot some guns, Stephen's wish.FacebookTwitterGoogle+DiggPinterestBlogger
Baby Boy came right smack-to-the-dab on his due date. No rushing this child who seems to know his destiny's secure.
They experienced the birth of their baby in a foreign land and, for Stephen, the first delivery. (In China, fathers are not allowed in the OR.) When I asked him what it was like, he said in his beautiful, broken English, "It make husband love his wife more." #allthefeelsFacebookTwitterGoogle+DiggPinterestBlogger
With gratitude and love for the men and women of Genesis who were Christ in skin to their fellow believers.
At the party/shower we hosted, I sat 'longside as Dena opened card after card after card with handwritten notes and the gifts given by our Sunday School class, this lovely group who'd embraced them wholeheartedly and showed it in concrete ways. She was stunned. Nearly speechless. Then she said this: "I can feel the love. Young people today do not write many cards. It's all technology. It feels–temperature," and here, she stopped, looking for the word. "It feels warm."
It was right after Stephen had brought her here in preparation for Baby Elon's arrival that it dawned on me, and it came in a text from a friend. "The destiny of this child is just–well, it makes me want to see 50 years into the future!" This, as we had just dropped her off at the place she was staying. I read it aloud, and Mr. Schrock said, "Huh. Their address is Destiny Drive."FacebookTwitterGoogle+DiggPinterestBlogger
Dedicating the child of destiny to the One who created him and sustained his very life. A holy and beautiful moment.
The baby who was born on Destiny Drive flew back across the sea yesterday with his mommy and daddy. He was greeted with such joy by his two big brothers and four very excited grandparents. Our hearts overflow on their behalf, and we look forward to welcoming them back one day.FacebookTwitterGoogle+DiggPinterestBlogger
This American nana has a dream. She'd like to celebrate Destiny Child's first birthday in his homeland, embracing not just him, but his entire, extended family. That's her dream. She and her Chinese daughter have a "together" dream that one day, all seven of their boys (four from America and three from China) will be in one grand and lively portrait. They both believe they will see that day, too.
"I know Whom I have believed and am persuaded that He is able to keep that which I've committed unto Him against that day (2 Tim. 1:12)."FacebookTwitterGoogle+DiggPinterestBlogger
My unexpected baby holds her unexpected baby one more time before saying goodbye.
Before they left, Dena told me that, "I think the biggest thing God has shown me while I'm here is love…the love of God's big, big family." I know that both she and Stephen are taking that big, big love of God to their homeland, and that the ripples that started here will reach far over the sea. I believe that God will continue to be glorified and that His light will continue to spread.FacebookTwitterGoogle+DiggPinterestBlogger
"All because Jesus sent one mother's son to China to help save another son's life."
With thanksgiving,
FacebookTwitterGoogle+DiggPinterestBlogger