How to love your husband (hint–accept the skin you're in and just believe him)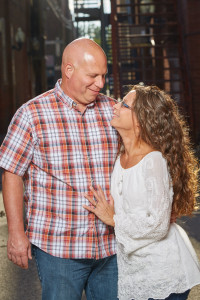 I feel prompted to teach on a topic today that has been all kinds of difficult for me. I grew up, see, in a culture where certain things were not talked about. Were shrouded in secrecy and, yes, shame. Then I married a man who not only didn't beat around the bush, but he'd push me to talk (can you imagine that?) about all manner of thorny things.
It sure did make for some rockin' and rollin' of my little, pink canoe, I can tell you. But now on this side of it, I give thanks.
Anyway.
For years, there were certain things my husband would tell me, and for some reason, I'd have the hardest time believing him. And it hurt him. Like I told you in this blog post here, when I would fuss about how I'm made and didn't act like he was telling me the truth, it was disrespectful. It impugned his taste and his character, and that was hurtful.
As a girl who's born to teach, I'm going to go another step farther and expand on this topic. While I'm teaching today, it's on the premise that your husband is just like mine; a good-hearted man who wants to follow God. Now, I understand that some of you dear girls are hurting greatly because your husbands are addicted to porn, but even for you, there's truth here that may help you. You have my love.
For years, I measured myself (and we talked about that here ) and others by the world's yardstick. And that way of thinking was just horrid.
For years, my husband told me, "I just want you. I don't care about perfection. I want your heart." And then this, "I want you to be confident."
It seemed that no matter how many times he told me that not only was he completely happy with how I'm made, but that he actually did not WANT those perfect models, I still chose not to believe him. I persisted in doubting his word.
And my worth.
Then one day, a catalog I'd not asked for came in the mail, and it was full of swimsuit models. Gorgeous. Perfect. Not a wrinkle or stretch mark or bulge. And I felt it. So, at my husband's suggestion, I did something I don't normally do…
I took that catalog, I went to my then-26-year-old son, and I put it to him straight, "If you could choose, would you pick one of these or a 'normal' girl who's not perfect?"
And without hesitation, my son said what his dad has said all along, "I would not choose that."
We talked, then, and it was so helpful for the only-girl-in-a-houseful-of-men. What I learned from my two fellows that day was that it's character. It's personality. That those far trump outward packaging. And, per our son, if the right one came along who had the character, the personality, and was a bombshell, it would be fine, but that would not be his first concern.
Now you. And me. When our husbands tell us that they love us just like we are, they really mean it. And when they tell us that they want us to love ourselves–just like we are–they mean that, too.
When our husbands say, "I don't want another woman. What I want is your heart," they mean exactly that. 
So today, the way we can love our husbands, girls, is to accept the skin we're in. To begin to see it as a gift. To quit doubting and suspecting and disrespecting our men.
To quit doubting and complaining and impugning…the Creator. 
We are His clay pots, you and I, and our willing acceptance is what our husbands need. The strong, loving connection with us is what they want.
What your husband wants, then, is not a perfect body. It's a loving, trusting, believing heart. And that, dear girl, is a pearl of great price.