It's a madhouse, and that's a gift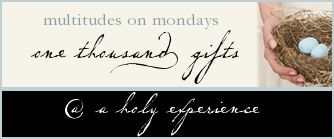 We'd called my mother to say, "Happy birthday."  Boy Two (aka Kid Kaboom) was singing a seriously goofy, nasal-ly version on a phone upstairs; I was cackling into the phone downstairs; Little was half-on, half-off; and The Mister was standing in the kitchen, shooting a cap gun.
It was, to put it mildly, chaotic.
In the midst of a crazy busy time, a long car trip imminent, it looked a whole lot like Christmas.  Glancing around, I saw it clear – the colored lights twining 'round the tree.  Four bulging stockings, marching across the top of the book case.  Fudge (two kinds) stashed here and there, cream cheese cookies (a Schrock must) resting atop the washing machine, freezer bulging with cut-out cookies of all shapes and sizes.
Those cookies – what a production that had been!  Frantic rolling and cutting, desperate to get them done before dashing off to Kid K's Christmas concert at the high school.  Sleeves rolled up, the two Smaller's attending, flour everywhere.
Out came the cutters…the Christmas tree.  The gingerbread man.  The wreath.  The teddy bear.  Santa's boot.  The star.  A cow.  A sheep (my favorite) and that infernal camel.
"Not him!" I exclaimed, remembering the skinny legs that burnt too quick, breaking off at the slightest touch.  No, they said in unison.  We must have the camel.
"But he burns," I said, "and he breaks.  Let's not."  "Yes, let's!" they said.  And so they cut camels.
We cut and baked and rolled and cut some more, sliding the last pan out of the oven just in time to munch tacos and head for one more Christmas concert.
Oh, my.  Sitting in that darkened auditorium, listening to the concert choir singing, the NorthWood band playing, and watching Boy Two and Dawning Generation (the swing choir) performing…there it came again.  The Spirit of Christmas, joy flooding, heart swelling at the sight of those kids…and our boy, shoes on fire, lighting up the stage.
Today, I am one proud and thankful mama.  Proud to watch our son excel (hearing others say it, too).  Thankful for the gifts of Christmas; the ruckus, even cap guns that pop in the kitchen; the treats we make with our hands, love baked right in; the mystery of the gift beneath the tree, small boy guessing, excited.
I'm thankful, too, for the joyful mess; for legs that break off of camels.  For gingerbread men misshapen.  For too many bear cookies, stamped by Someone Small.  For frosting – red, green, and blue – everywhere.  For shaky X's that mark the calendar, scratched carefully by Little whose Daddy lifts him up every night, counting days.
In this high and holy season comes solemnity, remembering The Gift.  But, too, laughter comes, and joy and fun and hilarity, gifts each one, as we share the days with those we love.
Once again, Merry Christmas!  May you find joy as you live each moment of it, eyes wide open.
FacebookTwitterGoogle+DiggPinterestBlogger