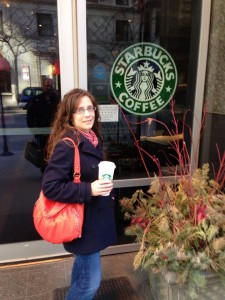 As they're out there, chirping "to beat the band," as my mother always said, I find myself nearly breathless at the windowsill, thinking of the warmer temperatures soon to come. I'm hearing the call of the open road, and my sneakers are all rarin' to go.
We had a close call a couple of weeks ago. There I was with my capris half out of the storage tub when bam! A blizzard.  Sighing, I stuffed them back in, then slipped and slid on down to the coffee shop where I spent the morning fielding phone calls from the house where minors were shootin' off streamers and throwin' confetti, askin' me to "bring doughnuts."
Snow day.
Rats.
Meanwhile, back here on The Three, Mr. Schrock and I are just off of an awesome, long and exhausting day in The Windy City. When friends of ours who lead two small groups for our high school kids (junior girls and boys) asked us to hop along, we said yes.  Off we went with the packets they'd made, walking the streets, looking for divine appointments.
What I learned can be boiled down to about three things. One, I now know where all the tall, classy, suave people of the world live. They're in Chicago. Not even kidding. Two, the ones who most appreciate a small care package seem to be the working class; the behind-the-scenes people who push the brooms and clean the messes of the tall, classy, suave folks. Huh.
Three, I saw again how great today's teens can be; how they get a bad rap sometimes, and we grown-ups forget all the good that's in 'em. They're full of passion, those kids, with a heap of com-passion for the lost. It's important, I think, to know this.
Other highlights of the day included shopping on Michigan Avenue (uh-huh) where the BOP (Bright Orange Purse) and its girl passed an outrageous line at Garrett's Popcorn, found a Starbucks and then bounced right past Hollywood star, Christian Slater, on the sidewalk. He was walking his dog and, I noted, made no mention of the BOP. Huh.
FacebookTwitterGoogle+DiggPinterestBlogger
Afterwards, the friends who'd invited us and the other chaperones took everyone to a Chicago Bulls game where we got to enjoy it from an executive suite. Oh, it was grand, and those street-walkin' kids had a ball, just eatin' up that buffet and the pop that didn't stop flowing and meetin' a Hall of Famer and everything.
I don't have to tell you how pooped we all were and how quiet that shuttle bus got on the way home. But I will tell you how there's other terribly exciting stuff stirring back here now, not the least of which involves The Today Show.
Yup. You heard me. The Today Show. Where my friend and colleague from "Cooking & Such" will be appearing in an upcoming segment that airs on April 16. She's goin' places, that girl. And to hear her tell it, she had a ball, cooking in her very own kitchen with Sara Haines, Today Show correspondent.
God alone knows what all this means. We've got a few ideas, but nobody knows for sure. At any rate, the magazine team and the Zondervan team and–well, just the whole kaboodle are excited as all get out to see what He's got up His large and mighty sleeve. So stay tuned. You'll hear it here.
As I reach for my beloved capris in an act of bright, spring faith, I'll share one last photo from Chicago:
FacebookTwitterGoogle+DiggPinterestBlogger
I think it's pretty awesome to see well-fed, warmly-dressed teens sharing the love of Jesus with those who aren't. It makes mejust that happy.
And that's all from the news room here in sunny Wakarusa today. Until later…