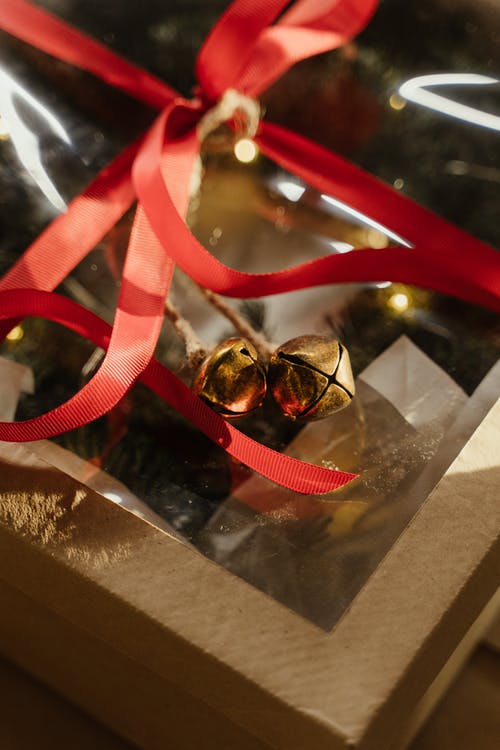 The door slams. The bottom 50% of the boys (i.e., numbers three and four) are leaving to run errands. Sounds of the season, they stream from the Bose, and the house has, at last, fallen quiet.
In the corner of the dining room, the tree spreads wide, wide. It's National Lampoon's Christmas Vacation tree, missing only the squirrel. What a lemon it's been. When someone clad in pajamas stirs in his sleep, the air currents shift, and needles come raining down. Or so it seems.
"It will be the Charlie Brown tree by the time it's all done!" Such was Mr. Schrock's dismayed proclamation. Which launched, of course, another needle cascade. And meanwhile, my thoughts turn to her.
Growing up on Grandpa Yoder's farm, she was one of the pack. Just one of the wild band of cousins that steamed through Kansas nights to hide and then seek. Kick the Can was the favorite, and countless summer evenings were spent just that way. "One, two, three, four," bellowed the Counter as the batch of hot worms ran pell mell for cover. Hearts beating loud, we'd wait for the sound of running feet, then a mighty CLANG as a shoe met the can, then more frantic footsteps flying…somewhere.
"She" is Twila. Adopted, along with three siblings, as an infant, she's been part of my life from the start. She came with disadvantages, or at least as many folks measure. Her feet, for one, were not straight. Special shoes with a bar in between (my mind can hardly fathom this) were her nighttime equipment, prescribed for her turning-in feet.
Mentally, school was hard. A simple, happy soul, she slogged her way through eighth grade, but she would never go further than that. When her siblings got married or moved away, she was the one left at home with her parents. As age and diseases set in, there she was; consolation, helping hands, and care giving, the three of them facing it at home.
Her mother died from heart disease, and then the three were two. Her father, a Beachy Amish minister, was suffering from cancer. As he declined, that faithful woman was there. In ways that astonished me, she stepped up to the plate and carried more than I knew that she could. My heart, from afar, was warmed.
It was while her mother was still alive that Twila faced her own health challenge. She was diagnosed with breast cancer. Amazingly, her spirits did not fail. She contracted an autoimmune disease that caused her hair to fall out–repeatedly, and still her spirits did not flag or fail. Then came another diagnosis. This time, it was bone cancer, and she felt that pain in her bones.
What has blessed me so much of late is the messages I get daily. Now that she's learned to text, she loves to send messages to family and friends. So grateful is she that her pain's under control that she shares this great news every day.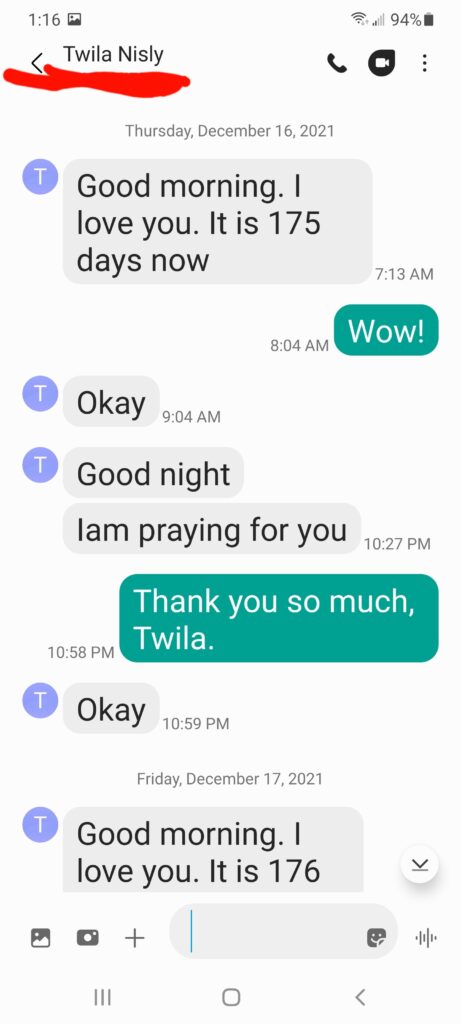 "Good morning. I love you. It is 177 days now." A long, blessed string of pain-free days. No matter what I send back, an emoji or a "yea" or a thumbs up, one word always, always comes back. "Okay."
Every night as I'm heading for bed, my phone will tweet. Sure enough. It's Twila with her evening text. "Good night. I love you."
"I love you, too."
And the standard, one-word reply. "Okay."
The other day, she called me. She was so excited about her Christmas trip, and she wanted me to know it. For the first time ever, she would be flying to Florida with a niece to spend Christmas in the sun. As we talked that day, I told her what an encouragement she's been to me. Her faith is so strong. Her love for God is evident, and she looks for ways to help others. (She has a little wagon ministry, as I call it, at the home where she lives. Practical help and love for the residents, rolling along on those wheels.)
"You have been through some hard things," I told her. "Both of your parents died, you had breast cancer, now the bone cancer, and yet your faith is strong. It hit me today," I said from my cozy kitchen, "that Jesus didn't come to give us perfect lives. He came to give us abundant life in an imperfect world."
From 850 miles away, I heard the tears in her voice and, beneath them, strong conviction. "That's right."
Twila told me that she doesn't know how "un-Christian people" get through life and its terribly hard things. God has helped her so much, she knows she is loved, and she knows, Twila does, that everything's "okay."
In days of terminal disease, "Okay."
In the sorrow of losing her parents, "Okay."
In pain-free, joyous hours, too, "Okay."
In the face of coming death, still. She knows it will all be "okay." Twila knows where she's going, and she knows Who is waiting to receive her. Until then, she keeps shining her light, encouraging others, and praying for those that God gives her.
I wish the world could know what Twila knows. I wish everyone could experience the peace that she carries. As children of God, it really will be "okay."
Merry Christmas! And peace on earth, goodwill toward men.