"What we can see is not all there is"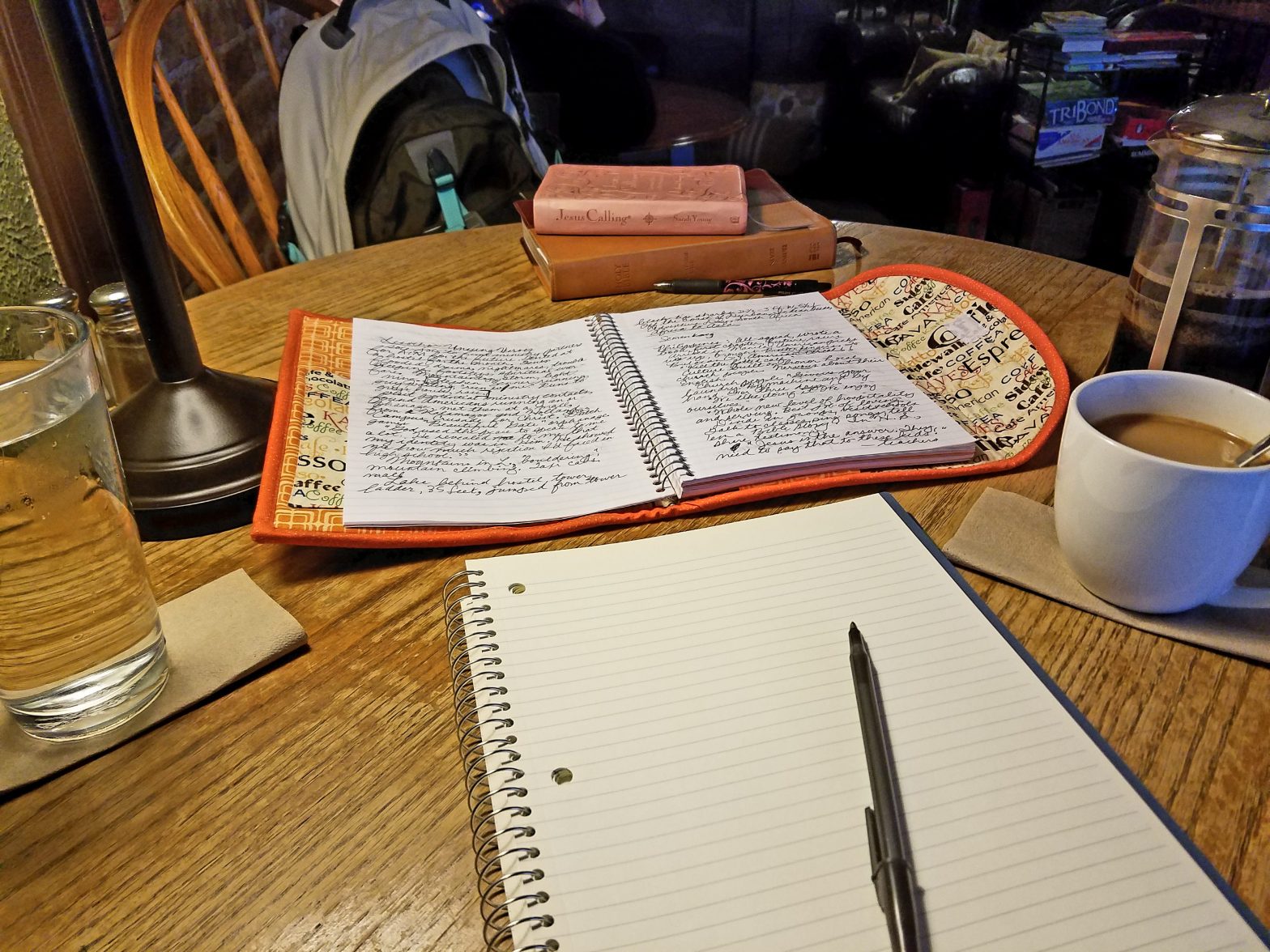 "For my God shall supply all your needs according to His riches in glory by Christ Jesus (Phil. 4:19)."
That's the verse we were studying in class that day. At the teacher's direction, we were discussing how we meet each other's financial, physical and emotional needs. I'd raised my hand to give an answer on how God meets emotional needs when he put the question right to me: "Can you give me an example?" And that's when I said, "Okay. I'll use you."
"The Summer of Hell." That's what I called it because that's what it was.
It was 2012. I was working two jobs, doing medical transcription full time with four growing sons while writing the weekly Grounds for Insanity column for The Goshen News. Money was tight; so tight we squeaked, and I had a prodigal son. If there were a word that is stronger than 'exhausted,' I would use it. But there's not, so I can't.
I was past exhausted.
Watching a child implode and being helpless to stop it is horrific. It's agony. At night, Mr. Schrock and I would walk our three-mile route on country roads, using the time to debrief. Many a-summer evening, stumbling along in blazing sun's heat, I would simply cry. Every single thing in my life was that hard in that hellish, hot summer season.
There came a day in that Summer of Hell when I cried out to God, a God who seemed silent. For even my grand and colorful writing dreams were stalled, and that landscape was gray. God was quiet.
It was in this time of desolation and desperation that I said one day, "God. I have not only hit the brick wall. I have gone through the brick wall, and I need a sign from You. Something…something. I need a confirmation that You're working, that good things are coming. I don't know what I need, but You do, so please send it." And I waited.
I waited and waited and waited. Days went by, and nothing. Nothing big enough and clear enough and wonderful enough that seemed like the kind of sign that I needed. And in the waiting, I began to get angry. So I said it. "God, You KNOW that I'm in terrible need. I've asked you, and I'm waiting, and You're not doing…"
Then one Sunday, a gentleman who was not our regular teacher stood up. And he taught. To this day, I can give you points and truths that I remember from that lesson, for he spoke with the authority and anointing of the Holy Spirit. It was a powerful, beautiful and thrilling lesson on eagles. I had never in my life heard such a lesson on these magnificent birds.
All that next week, I prayed, "Lord, I long to be an eagle Christian. Make me like the eagle!"
Still, I waited for a sign.
It was a week and a day later that I trudged, soul-weary, into the coffee shop to work once more on a column, for always and ever, that deadline. I looked up from my high, round table, and there they came.
A pair of strangers, and I knew at once what they were there for. They were older, not locals, and they surely had an RV in for servicing. I was right.
It was, of all things, my beloved BOP (Bright Orange Purse). Walking past their table, she spotted it, lit up and I stopped. For a brief moment, I stood there, and we connected over that silly orange purse.
All of a sudden, she paused, this stranger woman. And she looked at me and said these words, "I see you as an eagle. Your wings are out (and here she spread her arms), but they're not flapping because you're riding the thermals. Soaring!"
I'm smiling now. And then this, "The Lord is very proud of you, and so am I."
It was that morning as she watched me return to my table, bowing my head over notebook to write, that the Lord gave her a heavenly vision, and she spoke precious words to me. Sowing seeds that shall one day (I believe this) spring up, bearing fruit.
She gave me her phone number that day. "I'm so excited about what's going to happen! I can't wait to hear about it."
That woman is April, and she's become a spiritual mother to me. I call her when I need a word of wisdom or insight or when I or my family are in need of prayer.
But what I didn't tell in class that day was the story behind the story. How in Florence, Alabama, lived a southern couple with an RV. Which got damaged when a family member pulled it into the barn, banging up the slide-out. Which sent them up here to the factory for repairs, and there they sat, killing time.
April told me later, "Philip and I NEVER go into coffee shops." But on a humid, blasting-hot August day, the Lord brought them into mine.
The other piece in this back story is the guest speaker. Who couldn't have known that a weary woman, soul-hemorrhaging, was desperate for his lesson on eagles.
He couldn't know that. But he felt the Spirit's prompting, prepared it, and faithfully delivered.
A guest speaker. Perfect stranger. One, then both in a time of need.
If God can do that for me, my friend, then He can do that and more for you. For what we can see is not all there is. He hears every prayer. He knows every need, and He works even now on our behalf.
Take heart!