When Love comes calling, the crippled walk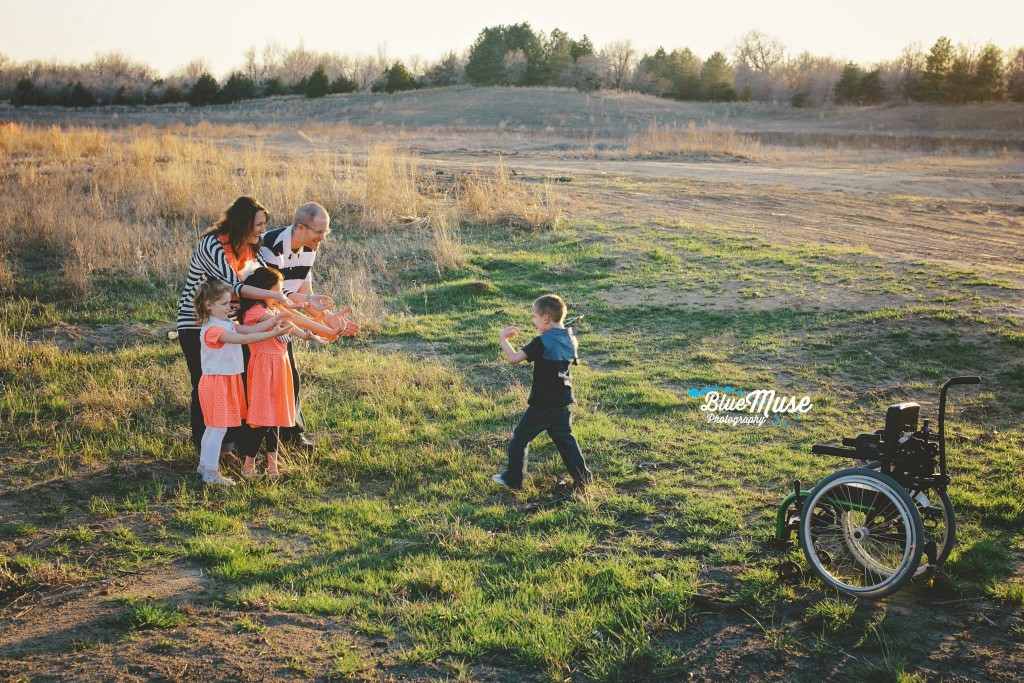 It said one thousand words, that photograph, coming through the newsfeed.  On the windswept plains, a tableau unfolds, drawing the eye, catching the heart.
To the right, an empty wheelchair, child size, petite. To the left, a family waits–mother, father and sisters two. They're leaning forward, arms outstretched, smiling and beckoning to another.
In the middle, a little boy in tennis shoes and blue jeans. He lurches across the hard-baked ground. His face, it shines in day's dying light. His sneakers thread steady through rough prairie grasses, and sun's molten gold's spilling over them all.
Hallowed ground, and the heart, well, it knows it. For love's come for Brady, the throw-away babe, and love, when it comes, can work miracles.
He's walking.
It's a fallen world where babies are born to parents who forsake and abandon. It's a dark, fallen world where it's the innocent afflicted with handicaps, "special needs" and with crippling. It is.
But it's a world free-redeemed, fresh-restored and renewed when love, it comes calling, and it welcomes. When a family adopts such a one as its own. When love full-embraces, working miracles.
On a windswept prairie, love beckons. Love answers, and the cripple arises, and he walks.
Wheelchair's empty.
In the heart all hard-baked, windswept and forsaken, Love calls. Love beckons. Love's adopting.
Love comes for the broken. Love touches the leper. Love's never undone by the messy.
Love's here, arms outstretched in the shape of a cross, and we, all the crippled, we rise. Rise and walk.
Tomb's empty.
Miracle Love. Hallowed ground. Healing's come. And one day, Heaven.
Note: Brady's father is this writer's kid brother, making him and Sisters Two first cousins to Little Schrock and Brothers Three. Batch of hot worms right there. His story was featured in the December 21, 2009, edition of "Grounds for Insanity" in The Goshen News. You can read it here.
Photo Credits: Blue Muse Photography