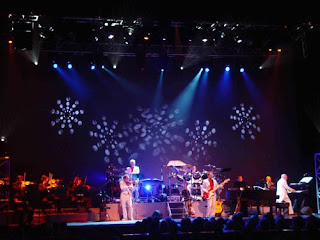 In this season of consummate beauty, there is little that can compare to the sounds of Christmas.  Last night, we, along with friends, experienced a beauty and sensory overload.  Mannheim Steamroller was in town.
Words cannot do justice to the evening.  Seeing the Morris Civic Auditorium decked out in all its Christmas finery was in itself an overwhelming experience.  The architecture, moldings, chandeliers, fabrics, swooping balconies, and marble all trimmed out with greenery, lights, and bright ornaments left you craning your head, speechless.
Two words that came to mind over and over as we sat through the fastest two  hours we've ever experienced were "consummate professionals."  These were followed by "talent," "passion," and "excellence."
For two solid hours, the artists on stage performed with complete abandon.  For two hours, they entertained.  They ministered.  They carried us away on the music.
When we finally walked outside, a lovely snow was falling, one that the weather gurus had not predicted.  It was, we agreed, the icing on the cake.
The men, I think, summed it up.  "What – what! – will Heaven be like if it's this good down here?"  Yes.  What indeed?
Happy birthday, Jesus! You deserve all this and more.