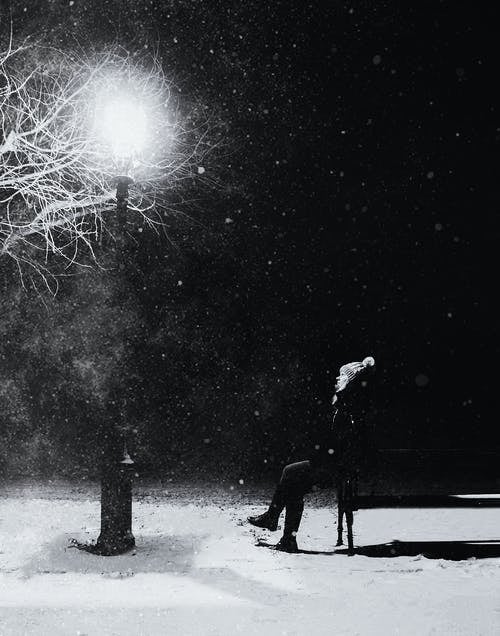 It's a cold winter's day. On the campus of Hillsdale College, the choir has gathered to practice in the gorgeous cathedral, Christ Chapel. He takes up his folder of music, glances up and out those grand windows.
Outside, the sky is low'ring. Smudging the landscape with grays, it mirrors the heaviness of the political, social, and cultural climate of the day.
"Surely He hath borne our griefs."
Beneath the soaring, barrel ceiling, the voices of young men and women twine together, ribboning towards highest heaven. Up, up, and up around marble pillars, the melody and harmony of Handel's Messiah weave a solemn lament.
"He was wounded for our transgressions. The chastisement of our peace was upon Him."
Pages turn and turn again. The college choir keeps singing.
At once, he looks up. Through the windows, he sees it–the air's become light! Where once the gray had been looming, now the falling snow is reflecting the light. The young man, as he sings, feels the change. Somewhere within him comes an easing; yes, a lightening. The gloom's been dispelled by the light.
"Surely, He hath borne our griefs and carried our sorrows."
In a time of darkness, uncertainty, and division, a Light still remains. It is this knowing, that Lord Christ has come, and He has taken our suffering on Him.
"He was wounded for our transgressions. He was bruised for our iniquities."
Today, I remember again the reason for the hope I carry within—that my great Suffering Friend has come, that He has borne my griefs and carried my sorrows. That He is the Light. That darkness and evil and suffering and pain in all of their ominous colors will surely give way to the Light. For they must.
It brought me back to true north. It strengthened my resolve and desire to stand, come what may, beside the Light; nay, in fact, in it. For there in the presence of Light, I shall be a reflector of it, a reflection of Him whom I love.
I hope this encourages you as it encouraged me. May you continue standing in the Light, reflecting it into an ever-darkening world. For one day, heaven.
"There will be no more night in the city, and they will have no need for the light of a lamp or of the sun. For the Lord God will shine on them, and they shall reign forever and ever (Rev. 22:5)."